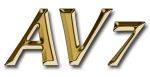 The AV7 Bible is very easy-to-read
It is an accurate literal translation for personal study
and especially ideal to give as a gift.
Order a copy today directly from the publisher:

---
Or, if you prefer to order through Amazon . . . just click this link.
---
To order by mail, please write to the address below and enclose check
for $4.95 per copy plus $2.95 postage for each separate USA address.

The AV7 Bible ~ PO Box 7777 ~ Mesa AZ 85216 Thank you!