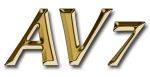 AV7 Bible reader's comments
To read reviews at Amazon.com Click this link
(Short excerpts from 3 you will find there:)
(1) Highly accurate translation yet a pleasure to read and study ... give to every member of your family, Bible study group, new members, and everyone ... great for Bible study, devotions, evangelism, children's ministry, prison ministry, or just giving to anyone who loves reading the Bible and applying it into their lives.
(2) We give these Bibles away at our concerts. They are a perfect introduction to the Bible for the modern reader ... in the first few pages gives the ten commandments, and a feature I particularly like, an overview of the most important truths in the Bible.
(3) The AV7 Bible is helping me get in the Word daily. It is no longer a battle to understand the Bible. The AV7 is easy to understand as well as having additional features that other Bibles do not have ...
To view more reader's comments: Click this link