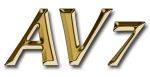 The New Authorized Version Foundation is a non-profit ministry
dedicated to expanding FREE distribution of The AV7 Bible
the easiest-to-read accurate literal translation . . . not a paraphrase.

Please share The Word by inviting others to visit ~ www.AV7.org

To view sample pages from The AV7 Bible . . . Please click this link.