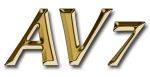 Seven Key Features
While The AV7 Bible has many important features that are not found in other versions of the Bible, the following seven key features are the F.A.I.R.E.S.T.
(Click on each title for a more complete description of each feature.)
Among other important features in The AV7 Bible, you will appreciate a very readable type size, no clutter of footnotes or marginal notes, many key passages presented in framed borders, and much more. . . . Continue . . .